Early Childhood Groups
GYMBOREE Toddler Gym
"GYMBOREE", a toddler group movement program run jointly by FRA's physical therapist, Cheryl Gaudette, and a Gymboree teacher. Meeting weekly at our local Gymboree center in Red Bank, children are able to use all of the Gymboree equipment to gain strength, coordination, balance, improve walking and motor play. Additional emphasis on their physical therapy needs always included with parent teaching. All children with any special needs, up to and including age 3 are welcome.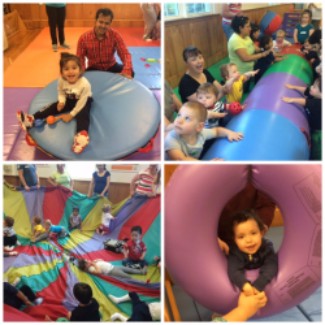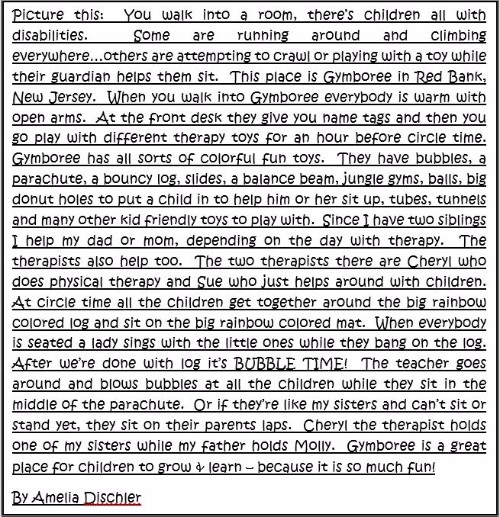 Above is a letter about Gymboree from Amelia Dischler
MOMMY AND ME YOGA
There are NO classes scheduled at this time.
For moms and children, 18 months to 3 years old who are developmentally delayed. Breathe deeply, calm your body, stretch, focus, hold your position and relax... this, games and more are the basics of this weekly class.
Class space is limited to 8 families. Fee is $50.00. Yoga Instructors: Susan Tudor, Amanda Ciccia, of Blue Moon Yoga Studios.
NEW!!! INFANT AND TODDLER PROGRAMS at the YMCA, HAZLET
There are NO classes scheduled at this time.
For infants, 8 months - 16 months. This therapy group will help address the child's full range of abilites and offer suggestions in all developmental aspects. Led by a Special Educator with the inclusion of other therapists on a regular basis. Inclusion opportunities with the YMCA infant program children.
TODDLER Speech Group will focus on the speech and language needs of toddlers who can also benefit from social and group interactions while working with a speech pathologist. Inclusion opportunities with the YMCA pre-school program children.