About FRA Ambassadors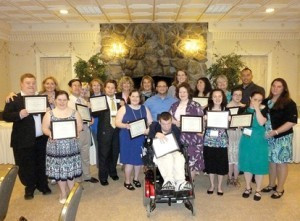 FRA Ambassadors
"Creating PossAbilities for
People with disAbilities"
Pilot Project Plan Overview
DESIGN TEAM: Maire Merritt, Maria Sant, Susan Levine, Nancy Phalanukorn
Who are the FRA Ambassadors? FRA Ambassadors are adults with disAbilities who have participated in FRA programs and who would really like to grow as self- advocates in the community and help FRA grow by participating in various volunteer opportunities.
Goal FRA Ambassadors will help people in the community learn about FRA programs and services. FRA Ambassadors will also show others that there are many possAbilities for people with disAbilities to be successful. The FRA Ambassadors Pilot Project will develop and empower a skilled group of FRA consumers to present themselves at their best (be a self-advocate) as a volunteer in various FRA settings which will help to positively change the public's perception of who they are as a person with a disAbility.
Project Plan The FRA Ambassadors pilot project will establish a successful volunteer training program for FRA consumers who have developmental disAbilities. Training will focus on skills for our adults to positively promote themselves in view of their peers and the public, learning to self-advocate and to promote FRA in the spirit of volunteering and giving back to our community. The classes are 1 ½ hours long: FRA Orientation; Presenting yourself in public; Social Courtesies; Becoming an FRA Ambassador; How to be a Greeter; and Public Speaking. Future plans include expanding volunteer roles in the office and in programs, and also being representatives on our Board of Trustees, committees or as part of an Advisory Board for the development of programs and services they want to have available, and other ideas as they arise.
Involvement Applicants had to attend an Introductory meeting; complete an application; participate in an interview; commit to attending all six classes and doing the related study aspects; do a presentation of themselves to the community at an Induction Ceremony However, as part of their screening, our initial contact with the applicants will be through a series of steps to be selected, so that those interested also gain experiences for presenting themselves, doing interviews and experiencing the possibility that they will not be selected at this time. They will have the opportunity to reapply again. Once inducted as an FRA Ambassador their commitment will be for one year, participating in at least three activities.