Lending Library Overview
Lending Library (Funded by Investor's Savings Bank & Disability Rights New Jersey - DRNJ)
"A lending library for people with unique needs!" The TECHConnection Lending Library provides an opportunity for families to learn about, examine and borrow:
The Lending Library is available by appointment only.  Call to schedule your appointment! 732-747-5310, ext. 116 
Partial Funding from The Sunfield Foundation & Disability Rights New Jersey (DRNJ)
---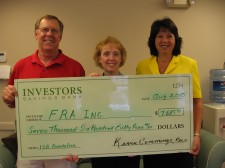 We are most grateful and excited to be supported by Investors Savings Bank Foundation with a grant of $7,685 to improve and update our Technology Lending Library. Pictured here is Bill Sheeser, FRA Board President, Nancy Phalanukorn, FRA Executive Director, Cathy Murray, Investors Savings Bank, Second Vice President.