Toby's Friends Sibling Support Group - Ages 10-15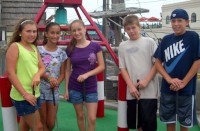 SPRING 2018 Meeting Thursday, May 10, 2018, 5 - 7PM at FRA.
Role play, art projects video & PIZZA will be part of this meeting! Please bring $8.00 to cover the cost of pizza & soda.
Older brothers and sisters of children with disabilities have growing concerns about what the future holds for them and their sibling. This quarterly program is held at various locations that feature food, discussion and fun! Join us for an interesting meeting designed to answer questions and explore feelings related to having a brother or sister with special needs. This meeting may be held at FRA, while bowling, at the boardwalk or in a park!
Do you know any other students who might be interested in this program? Please spread the word! November 16, 2017, February 15, 2018, May 10, 2018