Welcome to Family Resource Assoc., Inc.
Follow us on Facebook & Twitter!
---

WINTER 2013/2014 PROGRAMS & SERVICES
REGISTRATION OPEN as of Tuesday, October 15, 2013!!
RLC, Adult Education Classes
Classes Held at FRA in Shrewsbury
Keep learning by exploring new and fun subjects that interest you. Using a computer, students partake in various activities to help continue their reading, writing and thinking skills. Make new friends. Learn amazing things you can do on the computer, even without experience.
CLICK HERE FOR CLASS DETAILS.

ILC, Adult Education Classes
Classes Held at Hawkswood Collaboratives, 270 Industrial Way, Eatontown, NJ
A series of classes that address vital aspects of gaining skills for independence.
*Tues. and Thurs. ILC Classes have Student Level Requirements: Individuals must possess and demonstrate good verbal communication skills, independent written communication skills and a minimum 5th grade reading level.
CLICK HERE FOR CLASS DETAILS.
Karate
Classes Held at FRA in Shrewsbury. Ages teen thru adult
Karate exercises will help build focus, balance, strength and confidence. These skills will encourage self-discipline, boost self-esteem, and help to gain respect for self and others through weekly activities.
CLICK HERE FOR CLASS DETAILS.

Dance with Jay
Classes Held at FRA in Shrewsbury. Ages 13 and up
Learn all of the moves to enjoy your next dance or social. Hip-hop, free style, slow dancing and Latin dances will be taught. Have fun each week and stay fit.
CLICK HERE FOR CLASS DETAILS.



Gymboree
Classes held at our local Gymboree center in Red Bank. Ages up to and including 3 years
A toddler group movement program run jointly by FRA's physical therapist, Cheryl Gaudette, and a Gymboree teacher, meeting every week.
CLICK HERE FOR CLASS DETAILS.



---
The Men's Club of South Knolls in Jackson donated a generous check to FRA for our programs for children with Down syndrome.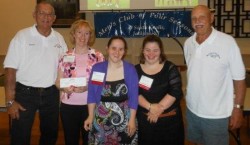 FRA Ambassadors Eileen Merritt and Bizzy Ford spoke to the group of over 100 men at their recent meeting in August to tell them about their successes and to promote FRA. The men were very appreciative of the presentation and gained a very new understanding of the abilities of people with Down syndrome. Thank you to South Knoll's for your tremendous support of $3,400 and for giving our Ambassadors the opportunity to inform you about FRA!
---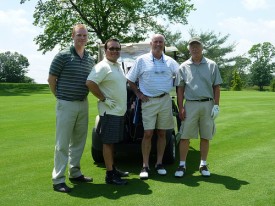 It was another fantastic day for our 32nd Annual FRA Golf Outing! We were thrilled to have over 90 golfers out enjoying the spectacular greens and views at Navesink.
View PHOTOS from this fun-filled day!
Read the great article and view photos from
"Word on the Shore".
A Special Thanks to Our 2013 Sponsors!
GOLD SPONSORS
Timothy 6:17 Foundation
Tradition Asiel Securities
SILVER SPONSORS
BrokerTec Repo
The Cartier Family
Euro Brokers BGC
Fundamental Brokers
ICAP Capital Markets LLC
ICAP USA LLC
Tullett Prebon
BRONZE SPONSORS
Investors Bank
Nelson & McKenna Inc.
The Sheeser Family
The Vadon Family

---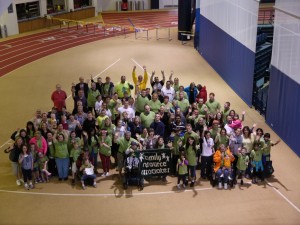 PossAbilities Walk
& A DAY OF SPORTS PLAY with Monmouth University HAWKS

Held at Kessler Field at Monmouth University on Saturday, May 11, 2013

Camaraderie was the theme exhibited at this year's PossAbilities WALK & DAY OF SPORTS PLAY with Monmouth University HAWKS. As the participants arrived they were greeted by the warm smiles of the FRA Ambassadors, which served as a reminder of why we were all there. The attendees headed over towards the track for a meet and greet with the Monmouth University Student Peer Athletes.
The walk started once Board Vice President, Bill Sheeser gave his welcoming speech to everybody gathered around the starting line. Friends, families, and even two dogs walked and ran as they were encouraged with an ocean of support from the checkpoint signs along the outside edge of the track.
Click here to continue article and to view PHOTOS of the event!
---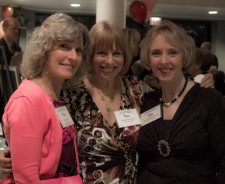 A unique opportunity
to see the power of
FRA glimpsed at the
Family Circle Gala
February 15, 2013 was a joyful night for over 180 guests and made more special as the Ambassadors greeted them, sold raffle tickets and introduced themselves at each table.

Click to read more about the GALA, see PHOTOS and watch VIDEOS of the Ambassadors' Speeches!
---
---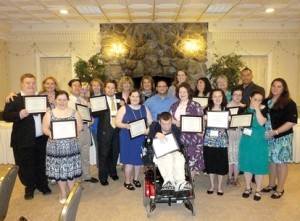 INTRODUCING our First Class of
FRA AMBASSADORS
In October 2011, a design team initiated a pilot project to create new possAbilities for adults with disAbilities who have participated in FRA programs. For this we needed individuals with enthusiasm to be out in the public representing themselves as self-advocates and wanting to help FRA grow by participating at FRA events and at speaking engagements
FRA Ambassadors are adults with disAbilities who have achieved many accomplishments in their lives and who have an affiliation with FRA, some since they were infants. We are proud to introduce our first eleven empowered self-advocates and share our joy as we congratulate and introduce them:
Thomas Castellano, Catherine Ehlinger, Bizzy Ford, Marcus Hannah, Deanna Jimenez, Lindsey Keune, Joe Martinelli, Eileen Merritt, Kerry Potestivo, Michael Sant, and Tara Waters. READ MORE
---
---
Become a FAMILY CIRCLE MONTHLY DONOR!
The FRA Family Circle is an automated giving program designed to help you conveniently and consistently contribute to FRA. When you enroll in the FRA Family Circle, your monthly gift is made through a pre-authorized transfer from your bank account or credit card. Your gift is deposited into FRA's bank account on the same day it is transferred from your account--at no cost to you or FRA. At any time, you may increase, decrease, or suspend your gift by calling 732-747-5310, ext. 113.
Look what your gift will do!
--$10/month will purchase books and materials
--$15/month will support a sibling group
--$20/month will support therapy group for children
--$25/month will help provide individual therapy
--$50/month will help develop our TECHConnection so we can make technology more accessible to those of any age with difficulties and impairments (due to accident, illness or aging).
Download a Sustainer Pledge Form here.
---
TECHConnection's TECHNOLOGY
LENDING LIBRARY
IS NOW AVAILABLE TO VIEW ON LINE!!
Our thanks to DRNJ (Disability Rights New Jersey) and
Investors Savings Bank Foundation
for funding our Lending Library!
---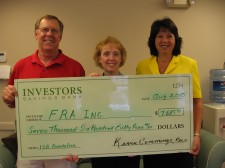 We are most grateful and excited to be supported by Investors Savings Bank Foundation with a grant of $7,685 to improve and update our Technology Lending Library. Pictured here is Bill Sheeser, FRA Board President, Nancy Phalanukorn, FRA Executive Director, Cathy Murray, Investors Savings Bank, Second Vice President.
---
FREE Assistive Technology Demonstrations in the Community!
Let the TECHConnection at FRA bring a TECH Expo to YOU in Monmouth County! You can increase your awareness of assistive technology at your convenience.
See many types of Assistive Technology alternatives to help people who struggle with reading, writing, vision concerns or physical limitations or who have developmental or acquired disabilities. Find ways to make using the computer easier!
A TECH EXPO will give people access to technology to broaden their world and offer more independence. Let us show you how to make using the computer easy. FIND solutions for the challenges you face in school, at home, or in the workplace.
CALL NOW to host a TECH EXPO of your own! We will bring all the technology to you with many demonstrations to help you or your clients!
Call Joanne Castellano, Director - TECHConnection @ FRA 732-747-5310 ext. 114, or email TecConn@aol.com
Services & Programs