Jay Bowman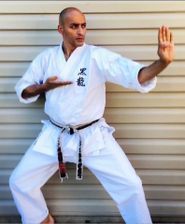 Jay joined FRA in the spring of 2006. Growing up in Bradley Beach, NJ, Jay, along with his siblings Ray and Melissa, taught themselves to dance and began performing publicly at a young age. After graduating high school, Jay continued his passion for the arts at Brookdale Community College where he pursued a degree in Art/Graphic Design and took his first formal dance class. From there, Jay made several appearances on MTV even dancing in Times Square's "Dance Off."
However, Jay truly found his purpose when he was able to start his own dance program at FRA. "Dance with Jay" not only focuses on improving each dancer's ability but also helps each dancer grow socially and build confidence. With over 90 students attending his classes, his team has performed at the National Dance Competition in Atlantic City and Montclair University.
In November 2010, Jay built upon his success with the dance program and created an all special needs karate team known as "Team Achieve." "Master Jay", a decorated martial artist, has been practicing since he was 4 years old and teaching since he was 15, under his father Grandmaster GJ Torres Sr. Team Achieve focuses on not only learning martial arts, but team work, patience, respect, and discipline. The team has done multiple shows and demos, as well as competed in several martial arts competitions.
Jay is always busy, and when he is not teaching dance, karate or jazzercize to the special needs community, DJ Jay "Danceman" also DJ's at various special needs events. He works with many special needs organization in our community, including the Arc of Monmouth and Ocean, The Friends of Special Athletes, The Circle of Friends, Rally Cap Sports, The S.T.A.R.S. Organization, The Francis Foundation, and Special Olympics.