Lending Library (Funded by Investor's Savings Bank & Disability Rights New Jersey - DRNJ)
"A lending library for people with special needs!" The TECHConnection Lending Library provides an opportunity for families who have a member with special needs to learn about, examine and borrow:
To borrow from the Lending Library you need to become a member. Membership is only $25.00 per year. The Lending Library is available by appointment only, with weekday and some Saturday availability. Call to schedule your appointment! 732-747-5310, ext. 114 Partial Funding from The Sunfield Foundation & Disability Rights New Jersey (DRNJ)
---
Lending Library

FEATURED PRODUCT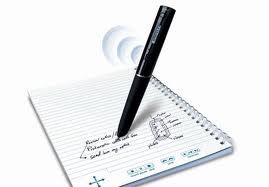 Echo Smartpen
Never Miss a Word
This is a great tool for students who have difficulty keeping up with note taking. Record and play back everything you write and hear. Then, using a USB cable, transfer your notes and audio to your computer.
Truly never miss a word. It's a more accurate tool to help the user remember and replay their notes. Replay notes right from the pen or transfer your notes onto a computer.
This is not just for students! I love using my pen for meetings!!! Also great for the elderly to take with them to doctor visits.
Cost: Echo SmartPen 2 GB - $99.00
Call Joanne Castellano at 732-747-5310, ext. 114 with questions or for a free demonstration.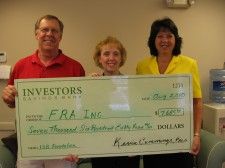 We are most grateful and excited to be supported by Investors Savings Bank Foundation with a grant of $7,685 to improve and update our Technology Lending Library. Pictured here is Bill Sheeser, FRA Board President, Nancy Phalanukorn, FRA Executive Director, Cathy Murray, Investors Savings Bank, Second Vice President.