S121 ANIMAL HABITATS- SOFTWARE
Animal Habitats is designed to reinforce phonics and basic skills through a theme-based collection of activities. An original story introduces students to five unique habitats: the Jungle, the Desert, the Grasslands, the Mountains, and the Artic. Students follow the story on the computer and then explore each habitat. This software provides Overlays.
M104 ANIMAL HABITATS- OVERLAYS FOR INTELLIKEYS
Animal Habitats is designed to reinforce phonics and basic skills through a theme-based collection of activities. This product contains a series of interactive overlays designed to help students explore language and early math concepts. Each overlay is supported by a variety of curriculum ideas to assist teachers in providing an integrated learning environment that includes all students.
S111 BLUE'S ABC TIME ACTIVITIES
Explore the world of letters, sounds and words with Blue and her friends in this activity pack filled with multi-level learning games. Identify letters, build vocabulary, practice phonics and create rhymes as you collect words to help Blue build silly stories in her Word Book. The more words you collect, the more stories you can create and print out!
S110 BLUE'S 123 TIME ACTIVITIES
Practice pre-math and problem-solving skills in this activity pack filled with multi-level learning games. Develop logical thinking and deductive reasoning skills, recognize and complete patterns, practice simple mathematical operations and explore estimation and prediction. Preschoolers strengthen early math skills as they help Blue win Big Prizes at the Prize Tent.
S12 EDMARK- TALKING WALLS
Using the Talking Walls Software Series, students discover the stories behind some of the world's most fascinating walls. The award-winning books, interactive software, carefully chosen Web sites*, and suggested classroom activities build upon each other, providing a rich learning experience that includes text, video, and hands-on projects. Students' perspectives about the world will expand as they study the historical, cultural, and political issues related to each wall's region.
S119 FISHER PRICE READY FOR PRESCHOOL
Ready for Preschool provides a fun and rewarding way for the young child to acquire beginning computer skills. Three levels of difficulty give even the youngest child experience in pointing, clicking and dragging with the mouse. Additionally, early pre-reading and pre-math skills are taught through engaging activities, and users learn to follow directions, and complete assigned tasks.
S157 FIVE FINGER TYPIST 2.1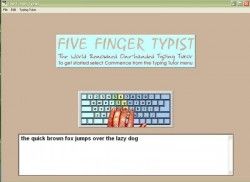 The Five Finger Typist is a keyboarding tutor for those who need to learn to type with either the left or right hand. The animated on-screen graphics go through the hand movements while the user follows a series of structured typing exercises. The program is self pacing with practice sessions and a slow build up of new keystrokes.
S124 HOLLYWOOD
Hollywood is software that makes writing fun! This program helps students understand setting, plot, and characters. Students will choose from a variety of characters and settings that they would like for their story. Once they pick out everything that is needed for the story, they are able to use their imaginations and create a fun filled story that will interact with them on the computer.
S104 I KNOW AMERICAN HISTORY: SWITCH ACCESSIBLE
I KNOW brings the standard curriculum to students with sever disabilities. I KNOW has 5 curriculum themes with 9 topics per theme. Each topic is narrated at three different language levels providing cognitive and age-appropriate content for students of all ages. With SoftTouch's Steps to Learning Design, teachers select the theme and how many items to present at one time. I KNOW saves student preferences and data helping teachers monitor and measure student accomplishment. I KNOW is an exceptional educational opportunity for students working toward the standard curriculum.
S02 MAGIC SCHOOL BUS: EXPLORES BUGS
Oh no! There's been a terrible mishap with the terrariums created by the kids in Ms. Frizzle's class. Each terrarium is missing one of its bugs. Shrink down to wee-bug size, explore the world of bugs, and help find the missing ones with Scholastic's The Magic School Bus. Wahoo!
S04 MAGIC SCHOOL BUS EXPLORES THE SOLAR SYSTEM
Play a round of interplanetary hide-and-seek with Ms. Frizzle and her class aboard the Magic School Bus! In this exploration of our solar system, the Friz is hiding somewhere in Earth's neighborhood--as far away as Saturn, perhaps, or maybe as close as the moon. It is up to players to put together the clues that will lead to the elusive teacher's location. Luckily, the Magic School Bus is equipped with everything the quest will require--information on the planets, navigation tools for visiting these worlds and plenty of clues to Ms. Frizzle's hiding place.
S03 MAGIC SCHOOL BUS: INSIDE THE EARTH
The Magic School Bus Explores inside the Earth is rock solid entertainment!
Arnolds feeling down. He's lost some rocks and a mineral from his rock collection. But leave it to Ms. Frizzle and her class to dig deeper - into the earth - to find them. And you can dig in to!
S13 MATCHBOX CONSTRUCTION ZONE 2 GOLD MINING
Kids five and up take control of seven mining machines through ten play zones as they hammer, smash, dig, and blast their way through gold mines. Zones include a mysterious cavern, an ore processing center, a secret ghost town, and a copper mining area. Get the job done using a Front Shovel, Track Loader, Track-Type Tractor, Off Highway Truck, Excavator, Telescopic Handler, and a Wheel Loader. High efficiency is rewarded by the amount of gold, silver, and copper that is mined, and scores are awarded for completing mining tasks. Stocks that are earned in the course of play can be printed out.
S07 & 08 MATELL INTERACTIVE- THE WILD THORNBERRY'S RAMBELER
The Wild Thornberry's are trying to win the Golden Schweitzer, an award given for the best nature documentary in the world. You take control of Nigel, Marianne, Eliza, Darwin, Debbie, and Donnie as they travel through six wacky levels of action. Along the way, they will have to travel to exotic locations like the Galapagos Islands, Amazon Rain Forest, Savannah Desert, African Congo, Himalayan Mountains, and Australian Outback. Each area has unique mini-games that can be set to three different difficulty levels. The games include sneaking up on animals and videotaping them, driving the Thornberry bus through the jungle, and helping Nigel collect items as he rappels down the side of a cliff. When you complete a game, the difficulty level determines what ending you see.
S114 MAVIS BEACON TEACHES TYPING
Welcome to Mavis Beacon's virtual classroom! It's fun and easy to improve your keyboarding skills, especially when you have an experienced teacher. Mavis has taught millions of people how to type, from complete beginners who "hunt and peck" for the right key, to keyboarding professionals who want to polish their skills. Mavis Beacon means better typing guaranteed.
S05 MICROSOFT MY PERSONAL TUTOR- 1ST AND 2ND GRADE
My Personal Tutor 1st and 2nd Grade is a comprehensive three CD-ROM learning suite that gives kids personalized instruction in the essential math, reading, and thinking skills that they need for school success. It is the only software with TutorAssist technology to provide your child with personalized instruction, using engaging multimedia tutorials. My Personal Tutor 1st and 2nd Grade is a full, grade-based offering covering all core skills for 1st and 2nd grade. My Personal Tutor 1st and 2nd Grade contains hundreds of activities, games, songs, storybooks and characters to entertain your child for hours.
S126, 141 MILLIE'S MATH HOUSE
Through seven fun-filled activities that feel like play, your child will learn about numbers, counting, addition, subtraction, patterns, problem solving, size, geometric shapes, and more. Count critters, build mouse houses, create crazy-looking bugs, make jellybean cookies for Harley the Horse, and find just the right shoes for Little, Middle, and Big!
S120 NUMBER CONCEPTS WITH OSHI THE OTTER- SOFTWARE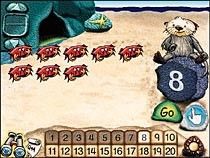 Number concepts is where students working in the kindergarten through second grade range learn number sense concepts in an ocean environment. Go to the beach where you'll count seashore animals coming out of a beachfront cave. Visit the coral reef and help Mary the Moray Eel decide which side of the reef has more sea animals and which side has less. Take a trip to the tide pool where you'll work with addition subtraction equations as the waves wash sea animals into and out of the pools. In each activity, students have the opportunity to work with numbers up to 20, receiving help and feedback from Oshi the Otter. All the student work is saved in a portfolio and can be easily viewed on-screen and printed out. The program is accessible via IntelliKeys, switches, and the mouse.
M106 NUMBER CONCEPTS WITH OSHI THE OTTER- OVERLAYS FOR INTELLIKEYS
Number concepts is where students working in the kindergarten through second grade range learn number sense concepts in an ocean environment. The program is accessible via IntelliKeys, switches, and the mouse. This product contains a series of interactive overlays designed to help students explore early math concepts.
S16 O.D.S GEORUNNER
That crazy Blit is in trouble again, and he needs your help. Our friend Blit loves to skate and rollerblade. But he just can't keep from crashing, and when he does he goes right into the cage. You can help him, though. As a member of the Blit Rescue and Tracking Squad, you search the world for keys to get him out. When you find enough keys, Blit is free to skate again! You'll want to spend countless hours learning all sorts of useful facts about all the countries of the world. Choose your difficulty, choose your continent, and set Blit FREE! Are you up to the globe-hopping challenge of GeoRunner?
S14 O.D.S THE GREAT GALAXEY
Throughout time, humans have reached for the stars and strived for a greater understanding of the planets in our solar system. We've built machines and telescopes so that we might get a better look at our galaxy. Well, today is a new day. We now have the technology to send one special space kid to all the places we had only dreamed of going. Will that space kid learn all there is to know about the planets? Will that space kid be brave enough? Will that space kid be smart enough? Will that space kid be . . . YOU?
S18 O.D.S PROFESSOR EGGWORDS DISCOVERY
Professor Eggword has discovered some unusual eggs, and it's up to you to help him hatch them. Use your spelling and vocabulary skills to unlock the mystery of these amazing eggs. Professor Eggword's Discovery contains two exciting games in one and will keep children of all ages learning and having fun for hours on end. The program also contains our Teacher's Edition features, which include a teacher's guideline plus automatic tracking to record your child's learning. Treat your child to another fun learning game from Ohio Distinctive Software.
S15 O.D.S THE FANTASTIC WORD GIZMO
It's a fun and fast-paced world out there, especially when you're in the balloon business. The Fantastic Word Gizmo is a mighty impressive machine, but it's missing one important part: BRAIN POWER! Use your head to get ahead in this wild and wacky fun factory. You provide the words, and Blit and the Bear run the balloon machine. Challenge yourself with four different fast-paced word games. Do you have what it takes to make this factory run?
S17 O.D.S UADRINARIAM QWORD FIND
Come visit the beautiful planet of Quadrinaria, and explore the wonders of the planet while you help your friends, the Quadrinarians, find the precious words that have disappeared from their vocabulary. Along the way you will discover new and interesting places while expanding your own vocabulary. So hop aboard, and discover new words and their meanings as you travel with your new friends, the Quadrinarians.
S118 ONE HAND TYPING AND KEYBOARD
This software is a typing tutor for people who want to learn to type with one hand. It teaches the accepted keyboarding technique for one-handed touch typing on the standard (QWERTY) keyboard. Learn a life-long skill which can be used on any computer. No need for a specialized one-handed keyboard which has to be transported around with the user.
S152 PLAYFUL PRIMER
Playful Primer offers a variety of highly engaging, early learning activities to stimulate expressive language and cognitive development in young children with learning difficulties. This program is easily adjusted to suit each child's individual learning style. Activities are carefully designed so that learners are entertained without being distracted and challenged without being frustrated. Our team of experienced educators has ensured that Playful Primer focuses on the essential cognitive skills that make more complex learning possible. Skills: Basic vocabulary, beginning Spanish, focus and attentiveness, memory, listening, independent play, and visual discrimination.
S10 PURPLE MOON- ROCKETTS ADVENTURE MAKER
Step inside Rockett's World and make it your own. Create cool characters and scenes and dream up endless adventures. It's a different story every time depending on the decisions you make. Put yourself right in the middle of the action at Whistling Pines Jr High. You create your own friends make your own adventure using scenes, props and text. The yearbook has the inside scoop on all the kids at Whistling Pines including those you create. This is your chance to let you imagination run wild and try out some of those scenarios you may be dealing with in real life.
S11 PURPLE MOON- ROCKETT'S FIRST DANCE
The Valentine's Dance is coming up and Rockett has a whole new set of issues she needs help with. Who will be the King and Queen of Hearts? Will it be Rockett? Who will win the Battle of the Bands? It's a different story every time depending on the decisions you make.
S06 PURPLE MOON SECRET PATH TO YOUR DREAMS
Provides users with a means to track their dreams by entering and illustrating them in a journal of sorts. The end results can be saved as a type of dream diary or shared with others over the Internet. Five themes, or paths, are available to categorize dreams: nature, elements, fantasy, the known and the unknown, each with unique scenery backgrounds and associated items. Five fictional characters from Whistling Pines Jr. High are designed to represent typical teens. After listening to them relates their dreams, players are asked to illustrate a second dream. If done correctly, the player receives a "dream gem," providing access to other dream items.
S09 PURPLE MOON- ROCKETT'S TRICKY DECISION
In this sequel to Rockett's New School, by Purple Moon, Rockett is faced with more dilemmas and decisions. Rockett isn't the new girl any more but she still isn't sure exactly where she fits in. It's Halloween and she has been invited to two cool Halloween parties. Join Rockett and her friends as they gab and gossip, poke around, go through backpacks, read diaries, check the school newspaper and more. You'll wind up at one of the parties. But which one?
S142 READER RABBIT PLAYTIME FOR BABY AND TODDLER
Your baby is full of curiosity and boundless energy. This is a special time in your
child's development! Reader Rabbit® Playtime for Baby creates a stimulating
and playful environment filled with toys, songs, shapes, animals, movement,
color, and other stimuli to encourage exploration and discovery.
Developed by learning development specialists with the input and feedback of
parents, Reader Rabbit Playtime for Baby is a wonderful way for parents and child
to play and interact. The content is simple, bright and happy. All activities are
exploratory—so there are no right or wrong answers! This software includes colors & shapes, matching & differences, singing & dancing, musical instruments, animal names & sounds, cause & effect, emotions, simple stories, sounds & listening, language development, parts of the body, movement & coordination, letters & numbers and early vocabulary.
S73, 74, 140 SAMMY'S SCIENCE HOUSE
Sammy's Science House introduces and builds essential early science and thinking skills while engaging students with five fun-filled activities. Students sort names of plants, animals, and minerals at the Sorting Station, construct toys and machines in the Workshop. Learn about animal habitats at Acorn Pond, and manipulate weather variables with the Weather Machine. Sammy also offers interactive, creative activities such as Make-A-Movie.
S108 SCHOOL HOUSE ROCK! GRAMMAR ROCK
Learning about grammar has never been this much fun! The enjoyable and action packed world of Grammar Rock Helps kids gain confidence in writing and speaking, understand sentence structure, build vocabulary and learn to use the parts of speech.
S109 SCHOOL HOUSE ROCK! MATH ROCK
Come along on a rocking math journey! Help Lucky Seven Sampson gather members of his rock and roll band. The members are scattered throughout Funky Numberland playing different math games. Beat them at their games and they'll join you on the Road to Fame. There are over 20 different math skills in this program.
S138 SHOP 'TIL YOU DROP
Shopping is a great avenue to make choices. Shop til You Drop gives your students a chance to make their own choices. Play the money game, then spend money buying fast food or, better yet, buy clothes with a credit card! Different activities include trying on different clothes for teen girls and boys and changing outfits. A money game also helps with money concepts. Student Goals for this program is to visually recognize coins, learn visual scanning skills and learn row and column scanning skills.
S143 THINKIN' THINGS COLLECTION 1
Good thinkers learn quickly, adapt to change easily and accomplish remarkable things. That's why Edmark created Thinkin' Things Collection 1, a powerful set of tools and toys to help children strengthen observation and memory, improve problem solving and encourage creativity.
Thinkin' Things Collection 1 helps children strengthen auditory and visual discrimination, develop spatial awareness, and foster visual and musical creativity.
Thinkin' Things Collection 1 will help your child build a solid foundation for successful learning!
S144 THINKIN' THINGS COLLECTION 2
This dynamic collection of five challenging activities helps students advance their musical and artistic creativity, memory, visual and spatial awareness, listening, and problem-solving skills. With a strong grasp of these skills, it's amazing what students can do. Special features include activities that allow students to build skills at their own pace. Also, reading is not required, so both readers and non-readers can succeed. There are many different learning oppertunities in this cd visualize from 2D to 3D, identify matching attributes, remember and repeat patterns, develop spatial awareness, enhance visual memory, encourage, observation and analysis, strengthen auditory discrimination, recognise visual or auditory strengths and increase musical and visual creativity.
S145 THINKIN' THINGS COLLECTION 3
Become a strong thinker with Thinkin' Things Collection 3 and build thinking skills you can use wherever you are-in anything you do!
Challenge students to develop logical reasoning, analyse and synthesize information, and build key problem-solving skills. With Thinkin' Things students build thinking skills they can use wherever they are, in anything they do. Special features include helpful hint buttons, which provide encouragement and direction and as students succeed, Grow Slides automatically advance the level of difficulty. Make trades with brokers from around the world, program a half-time show and solve the Case of the Empty Fripple House. You'll improve deductive and inductive reasoning, synthesis and analysis, while building problem-solving skills essential for success! This CD will strengthen deductive and inductive reasoning, analyse and synthesize information, examine and interpret evidence, build early computer programming skills, predict a series of outcomes, identify relevant information, explore gravity, friction, motion and inertia and interpret and test rules.
S146 THINKIN' THINGS TOONY THE LOON'S LAGOON
Remember Thinkin Things 1 (Thinking Things 1), well this is it with eye-popping graphics. Oranga, Toony and the Fripples are just waiting to play with kids in six unique environments. Kids can play in Explore Mode, where they think and create. This is open-ended play at its best. In Question and Answer Mode children are prompted to choose or repeat something. Parents can use the grow slide to see what their children are learning and set the correct level. Activities increase in difficulty as children progress. Thinking skills are essential for success in all subject areas. These activities help children build logic and problem solving skills.
S51 TRUDY'S TIME AND PLACE HOUSE
This program encourages exploration and rewards persistence. Each activity has an Explore and Discover Mode as well as a question and answer mode. This allows students to either explore freely and direct the learning or to learn with gentle prompting and feedback. Trudy's Time and Place House helps develop time-telling skills, build directional skills, develop mapping skills, understand map symbols, explore oceans, continents, and landmarks.
S40, 75 TYPE TO LEARN 3 BY SUNBURST
Students embark on zany time travel missions to learn keyboarding skills in this animated update of Type to Learn™. Built on a proven curriculum of sequential, skills-building instruction, Type to Learn 3 helps students master keyboarding by engaging them in lesson/practice sequences.
S52 WORD MAKER
Word Maker is based on years of success with struggling readers of all ages and is grounded in extensive field-testing. Because it is computer-based, students move at their own pace, enjoy individualized lessons and feedback and receive extensive practice on essential decoding and spelling skills. Thousands of teachers and children have enjoyed making words and learned through these manipulative activities how words work. I hope that children will continue to enjoy and learn from this activity enhanced by the special capabilities of technology.
S113 WRITING WITH SYMBOLS
Writing with Symbols is a talking symbol/word processing program that can display symbols or other graphics for each word that you type. You have access to over 3,800 Mayer Johnson Picture Communication Symbols and over 4,000 Rebus symbols, and you can easily import your own digital pictures. The program has three primary uses: 1. As a tool for teachers/parents/therapists to quickly and easily adapt materials with symbols. 2. As a writing aid for emergent writers, providing the reinforcement of pictures and speech feedback. 3. As an interactive tool for creating computer-based activities with voice output and symbol support.