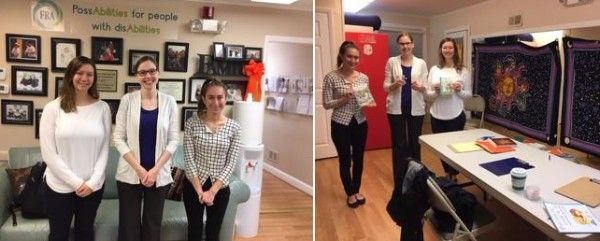 It was a Super Saturday for FRA with local creative inventive young ladies making a difference!!
FRA had a great time this weekend with a group of amazingly talented young girls (Team A!) 4th to 8th grade that participated in Monmouth University's Department of Computer Science & Software Engineering (CSSE), in partnership with Random Hacks of Kindness, @RhoKJr, STEM workshop. This event was to allow young girls to team up and show their talent and ability as problem solvers and innovators as they developed prototypes of Smartphone Apps that would benefit local nonprofits, like FRA. We were fortunate to be one of the Nonprofits working with a team that was incredibly eager, smart, and creative! Our Executive Director was given a team including a Project Mentor student of Monmouth University, George, and the 4 young women selected to work on our team app; Ariana, Ella, and Leana -- who were quickly named "Team A"!
These girls of 4th to 8th graders surpassed FRA's expectations! We had an idea of an App that would provide educational and developmental games (word recognition also using letters and numbers, etc) and our team developed an amazing prototype really understanding the need for lower level games, but for a demographic that are adults. As many of our students that are adults with disAbilities that use technology daily, when they go to find games and their particular learning level, they are finding elementary games with elementary targeted themes. In an effort to allow our adults to feel that they are learning at their best ability no matter what age, the idea to have educational gaming apps utilizing adult themes including pop culture was the focus and this wonderful team worked hard on developing a prototype for a multi-level multi-themed education and developmental game app!
We are so pleased to have been a part of this wonderful learning experience and give many thanks to all that helped see a need and fulfill it! Here at FRA, with the help of so many in our local community, we are always continuing our mission to assist those with disAbilities reach their greatest potential!