Real Mom Stories...An INSPIRATIONAL Blog from a mom of four children, whose youngest happens to have Down syndrome. Click Here
---
Click on this Link to read an article written by Amy Julia Becker for Parents.com,
"How to Raise a Child with Down Syndrome" with advice and resources.
---
Network21 is a parent-run network of families with Down syndrome in Central New Jersey. We connect and support parents, caregivers, and individuals with Down syndrome. We identify and share resources that can better provide for the needs of individuals with Down syndrome in our community.
We host regular Family Fun events that encourage parents, siblings and children with Down syndrome to connect and have fun. Visit the Meetings Page for more information on these events.
---
Down Syndrome Study Finds Families Are Happy, as posted on Disability Scoop on Sept. 22, 2011. Read Article
---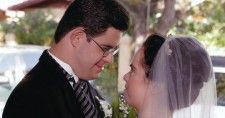 Monica & David
A Love Story
Playing nationwide.
Winner Best Documentary Tribeca Film Festival
MONICA & DAVID explores the marriage of two adults with Down syndrome and the family who strives to support their needs. Monica and David are blissfully in love and want what other adults have—an independent life. Full of humor, romance and everyday family drama, the film uses intimate fly-on-the wall footage to reveal the complexity of their story. While Monica and David are capable beyond expectations, their parents, aware of mainstream rejection of adults with intellectual disabilities, have trouble letting go.
Click Here to visit their website for detailed information on channels, times and dates.
---
FRA GALA November 12, 2010
Speech by Eileen Merritt
Thank you for coming to the Gala.
I am Eileen Merritt. I am 24 years old.
Since I was a newborn baby, I have been part of FRA.
• Today, I go to Brookdale College.
I have been taking courses for the past three years.
I loved Sign Language and Theatre and Painting and Drawing.
• Now I am taking VOICE ; I have the support of the PROFESSOR, Carly, my support person Cristina and my mom and DAD and sister Nora AND my brother in law John, all my Aunts and Uncles and Cousins and my dear Friend, Suzanne.
• I go to the Tech Center at FRA and lots of the Young Adult Classes.There
(My teacher) Joanne taught me how to have my own email safely.
(My teacher) Paula has taught me how to handle Bullies.
Sue Levine,MS, helps me with my problems as a young woman.
Carol Ehlinger was my first Dance Teacher and now I love to
DanceWith Jay!(Jay Bowden)
• For 4 years I have worked at a Day Care Center(Dream Builder's Academy) and handle 3 and 4 year olds. They call me Miss Eileen!
Dance teacher, Janine, invited me to help the little ones at FRA Dance Class with her. I love assisting each of them!
Thank you, FRA, parents and friends! Enjoy the GALA!!!!!
---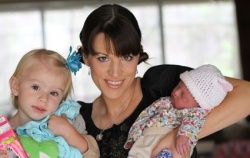 Blogger Kelle Hampton Touches World With Story of Down Syndrome
Hampton, 31, has been writing about her life as wife to husband, Brett, and mom to her 2-year-old daughter Lainey nearly every day since December 2007. It made perfect sense that she would announce the birth of her second daughter, Nella Cordelia, on her blog. And she did, with this entry written by her sister and posted on Jan. 24:
Click here to read Kelle Hampton's Blog!
---
Down Syndrome Support
The Down Syndrome Parent Support Group, for parents with a child of any age with Down syndrome, meets four times per year in host family homes throughout Monmouth County. Each meeting has information, support and socializing and a guest speaker. Topics include: medical issues, social relationships, behavior, long-term goals, inclusion, housing, conference reviews, and much more. This group is an affiliate of the National Down Syndrome Society.
The Meeting of the Moms provides parents with the opportunity to discuss issues of importance to families with young children, such as coping with the diagnosis of Down syndrome, and dealing with family members, friends and the community. Questions regarding medical concerns and developmental milestones are answered as well. Parents share ideas, parenting successes and community resources that have been helpful. The group meets monthly at 7:30 - 9:00 PM at FRA. Information, support and play time for the kids are part of each meeting. Call to RSVP by noon of the scheduled day. If we have less than 3 people planning to attend, the meeting may be canceled.
See Our Calendar for Dates.
One-to-one peer support can be arranged individually by the staff. Speaking with another parent who is coping with similar circumstances developmentally or medically with their child can be a source of emotional support.
Information Packets and Books -- FRA and Dr. Denise Aloisio, a developmental pediatrician at Jersey Shore Medical Center, have collaborated on an information packet on Down syndrome for new families with a child with this diagnosis. The packet contains resources, medical and developmental information and articles about coping with Down syndrome. The following books are also available at FRA:
Babies with Down Syndrome -- A New Parents' Guide, ed. Karen Stray-Gundersen

Early Communication Skills for Children with Down Syndrome -- A Guide for Parents and Professionals, by Libby Kumin, PhD, CCC-SLP

Gross Motor Skills in Children with Down Syndrome -- A Guide for Parents and Professionals, by Patricia C. Winders, PT
The information packet and books are FREE to eligible families in the greater Monmouth County, NJ area, depending on availability. Please call Sue L. at FRA (732-747-5310) to inquire.
Library Resources -- FRA maintains a book lending library with several books related to medical, developmental and educational issues in children with Down syndrome. Books can be borrowed for three week periods by individuals in the local area. You may stop by the office to borrow books in the library.
Down Syndrome Nutrition Handbook, by Joan Medlin

Early Communication Skills in Children with Down Syndrome, by Libby Kumin

From the Heart -- Incredible Edible Gluten-Free Food

Medical and Surgical Care in Children with Down Syndrome

Teaching Reading to Children with Down Syndrome

For the Love of Matthew: Growing Up with Down Syndrome by Janet Credit Houska

Babies with Down Syndrome (in English and Spanish)

Fine Motor Skills in Children with Down Syndrome