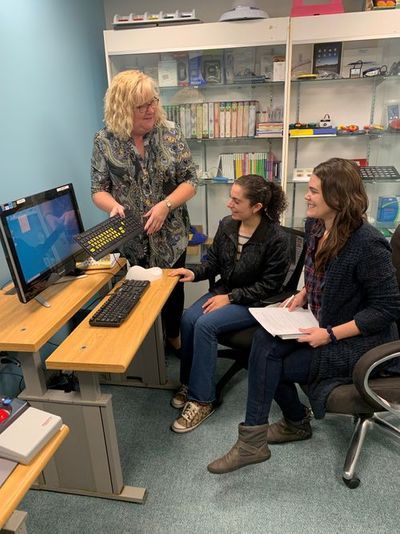 Technology Demonstration Center
---
New Jersey's Computer and Assistive Technology Demonstration Center is open to the public and promotes easy use of the computer. FRA's TECHConnection is a place to learn and try out computer technology.  TECHConnection interacts with internationally known technology developers and vendors, assistive technology professionals and shares with this nationwide network of technology resource centers to bring promising new technology to our community.
As a Community Technology Center, the Computer Demonstration Center at TECHConnection plays a vital role in assisting people with special needs gain access to critical technology.   Services are open to the community including infants, children, families and people of any age with developmental or acquired disAbilities or other limitations due to accident, illness or aging.
Enjoy a visit to use the TECHConnection Computer Demonstration to explore:
Many unique software products and apps for learning, language, employment and fun.

Keyboard and Mouse Alternatives

Writing and Literacy

Assistive Technology for Special Situations

Microsoft Accessibility Resources 

iPads and Apps

Lending Library filled with educational software, assistive devices, alternative communication basics and adapted toys.

Endless easy solutions to make the computer simple to use.
Open Access Time is available every week. Specialists trained in "assistive technology" can help you find tools to meet your needs. This is a free community service.
To schedule your opportunity to visit our demonstration center, please contact Joanne Castellano at 732-747-5310, ext. 114 or jcastellano@techconnection.org.