M86 Battery Device Timer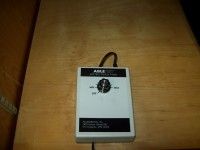 This is a device to test batteries in devices that are switch controlled.
M46 Labtec Desk Microphone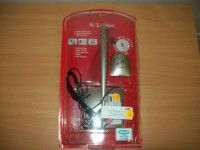 The Labtec desk mic 534 is a stylish, full-featured deluxe desk microphone that's great for voice-over-IP applications. The microphone filters out background noise for supreme voice clarity. The adjustable boom pivots and holds the ideal position, and the weighted base increases stability. It also features a mute/power switch for convenient control.
M121 MAGNICAM PRIMER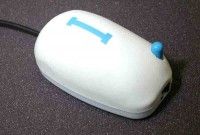 The Primer is an affordable choice for people using a traditional magnifying glass to help with reading and vision problems caused by retinal disease. The Primer can make reading and daily living tasks much easier. The focus-free Primer displays images in normal and either positive or negative enhanced modes, on round or flat surfaces. The Primer has a built-in roller to stabilize tracking and a one-button control making it very easy to use. The Primer is television or personal computer compatible.
M51 Power Link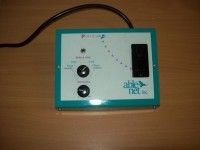 Power Link 2 is a control unit that allows most electrical devices to be controlled by a switch. It is an excellent tool for increasing the independence and active participation of students with physical impairments or severe cognitive delays. The unit has one duplex outlet that allows single switch operation of electrical appliances. It can be used to activate one or two appliances with a total capacity of 1700 watts. If two appliances are used, they will be activated simultaneously.
M5, 6, 7, 100 SWITCH INTERFACE PRO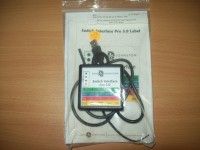 Don Johnston Switch Interface Pro 5.0 is the only switch interface that moves easily from Macintosh to PC computers no setup software required! This switch interface has more functionality and is even easier to use! Just push a button to change function sets. Connect up to 5 standard switches to run switch-enabled software from a wide variety of publishers. All the information you need to operate the switch interface is printed right on it. Teachers can get programs up and running in seconds. Connects to USB port. Extra-small size easily tucks into small spaces on computer desks. 2.5" x 2.5" dimensions.
M81, 82, 83 TWO AND FOUR BEAN HOLDER FOR JELLY BEAN SWITCHES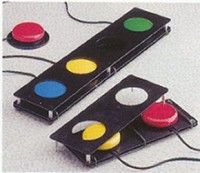 The Jelly Bean Switch Holders are control switch accessories designed for mounting Able Net Inc.'s Jelly Bean switches. Models are available to mount two switches and four switches. The holders mount to table tops with Velcro, Dual-Lock, or Blue-Tac adhesives to prevent sliding. The holders may be used with or without the switch guard. The holders are made of anodized aluminum and no tools are required to install the switches.
M132 I-LOVIEW HANDHELD CCTV MAGNIFIER
The I-Loview is an intelligent low vision magnifier convenient for use wherever you go. The lightest and the most professional 4.3 inch screen portable video magnifier, you can easily read menus, medicine bottles, labels, prescriptions, price tags, bus schedules and so much more.
The I-Loview is a perfect companion at home or traveling. Take it with you when visiting the grocery store, pharmacy, bank, library, bookstore and restaurants.