SW55 CORDLESS BIG RED SWITCH AND X-10 TRANSCEIVER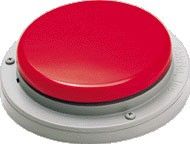 A switch that allows for Cordless control of electrical and battery-powered devices from up to 25 feet away. Four modes of control: direct, latch, timed seconds, and timed minutes. Will only work with the X-10 Transceiver which comes with the switch.
M116 PILLOW SPEAKER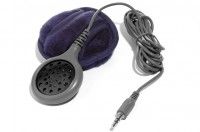 People have different patterns at night when they prepare to go to sleep. Where some like to drift off to complete silence, others prefer to let their favorite radio station lull them to sleep. Unfortunately, these two types often share a bed! But now you can listen to the radio in bed without disturbing your spouse with the SoftSpeaker Pillow Speaker, the perfect combination of comfort, privacy and quality. Since you rest your head on it directly, your partner won't be disturbed by the noise, and you can both enjoy falling asleep the way you prefer to.
The quality construction of the speaker, and the fine craftsmanship of the soft, removable cover ensure that you'll enjoy reliable, crystal clear sound. Plug the SoftSpeaker Pillow Speaker into the earphone jack of any radio, set the speaker on your pillow, and tune in. The speaker is padded in soft foam, with a cover so soft, you can rest your ear right on it. This means you can set the volume low and still enjoy the highest music and voice fidelity ever available in a pillow speaker.